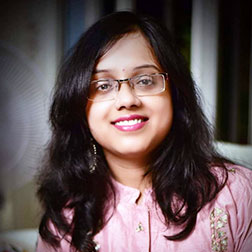 Manjistha Roy
Diabetic Educator
Anthropometrist
Manjistha Roy is a clinical dietician, Diabetes educator and Anthropometrist. She completed her graduation and acquired her Master of Science (Food & Nutrition) from the West Bengal State University. She further interned as a Dietitian from the S.S.K.M. Hospital (P.G. Hospital) & Charnock Hospital, Kolkata.
Ms. Roy is also a triple Certified Diabetes Educator from Christian Medical College, Vellore, from Dr. Mohan's Diabetes Education Academy and from Indian Association of Diabetes Educators.
She is a Level One Anthropometrist of ISAK (International Society for the Advancement of Kinanthropometry) from The Kidney Care Society and ILS Hospital, Kolkata.
Manjistha is a Life Member of Indian Dietetic Association, Diabetic Association of India, West Bengal, Dept. of Endocrinology, I.P.G.M.E & R. And a Life Time Member of Sahayta - Nutrition, Health, Education & Research Foundation.

Manji, as she is fondly called, is skilled and experienced in :-
* Dietary planning based on body types and health goals.
* Counselling and educating people on healthy dietary habits, options and
alternatives.
* Developing awareness about Diabetes, Insulin and Diabetes related
health hazards.
Measuring Body fat % by Skinfold methods, Muscularity, Linearity and Adiposity (Endomorphy - Mesomorphy - Ectomorphy)
In the past she has worked as a consultant dietician at the Sushrut Hospital and at Institute of Child health.
Personally Manjistha is a chirpy person, friendly, understanding, enthusiastic, reliable and empathetic. She loves dancing and spreading awareness about the importance of diet in living a healthy and contented life.